The zodiac sign Libra rules from September 23 to October 22 of a year.
Libra-born people love harmony. Imbalances are against their nature and cause discomfort. They are aesthetes and have a good hand for everything beautiful. The zodiac sign Libra symbolizes the inner as well as the outer balance. As a peacemaker and diplomat on the one hand, it can also appear selfish as well as opportunistic.
Element: Air
Color: light blue, lime green, light orange, pink
Male sign
Numerology: Number 7
Planet Assignment: Venus
Quality: cardinal
Weekday: Friday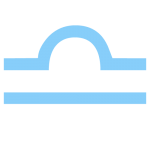 The zodiac sign Libra stands for harmony, charm and sympathy. Open-minded, cheerful, calm, sociable, communicative, friendly and open-hearted she appears. Libra is elegant, helpful, willing to compromise and diplomatic. As a good mediator with a lot of tact, she acts fairly and peaceably. The zodiac sign symbolizes a sense of beauty, art and creativity.
Libra is very indecisive and is subject to a strong need for harmony. The goal is to please everyone. She is incapable of making decisions, indifferent and superficial as well as dependent. Being alone does not work. Not being able to say "no", cowardly and selfish she meets her fellow men. She is considered lazy, sneaky, comfortable, unfaithful and pleasure-seeking. A Libra is opportunistic and quickly gets out of the inner balance if things develop differently than she thinks is good.
Addressed body regions: Kidneys, bladder, loins, skin
Kidney disorders
Headache
Energy loss
Legal Notice About The Diseases
For legal reasons, it is expressly stated at this point that the information given does not include medical advice, diagnosis, recommendation or treatment.
Following the astrological traditions, the mentioned areas belong to the health weak points of the concerned zodiac signs, which can occur, but by no means have to be present.
In case of existing complaints, a doctor or therapist should always be consulted.
The listed overview of the possible diseases has no claim to completeness.