The planet Uranus stands for renewal, change and sudden decisions. He is the revolutionary among the planets.
The planet Uranus was named after the Greek god Uranos, who is said to have been the prince of the gods long before Zeus. Only under very favorable conditions it is visible from Earth with the naked eye as a small star. It was discovered only shortly before the French Revolution in 1781 and is a gas planet consisting of hydrogen, ammonia and methane. It is the only planet rotating in the opposite direction. With 80 years this planet needs almost a whole human life to circle the sun once. This explains why it was kept as a fixed star for a long time and discovered only late.
Astronomical Significance
The temperature on Uranus is about -200°C. It is located 2.9 billion kilometers from the sun. The gas planet has a diameter of 51,000 kilometers.
Orbit around the sun:
84 years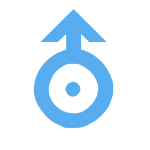 Uranus tears down existing fortresses. Established structures of order change with him. He is the revolutionary, radical and individualistic. The planet stands for freedom, renewal and unconventional action.
Sudden changes, a world improvement and new possibilities are represented by him. It also represents chaos and terror.
The planet always brings something new. This can be personal as well as social. The technical progress belongs to him. Boredom is impossible with him.
Meaning Retrograde Uranus
Under the influence of retrograde Uranus impatience and irritability increase. More and more decisions are made that no one wants to talk about afterwards. It is advisable to think about what should be done beforehand. Rash actions are regretted. Even if they are labeled as stupid, responsibility for them must still be accepted. In particular, spontaneous decisions are to be discouraged. Mostly selfishness provokes conflicts in our immediate environment and it will take some time to pick up the pieces.
Uranus is retrograde for 5 months approximately every 12 months.
Retrograde Uranus 2021-2025
September 6, 2025 – February 3, 2026
September 2, 2024 – January 30, 2025
August 29, 2023 – January 26, 2024
August 25, 2022 – January 22, 2023
August 20, 2021 –January 18, 2022
Retrograde Uranus 2016-2020
August 16, 2020 – January 13, 2021
August 12, 2019 – January 10, 2020
August 7, 2018 – January 6, 2019
August 3,  2017 – January 2, 2018
July 30, 2016 – December 29, 2016
In astromedicine, the planet represents the nerves and all sudden events.
All planets at a glance HERE.