The zodiac sign Taurus rules from April 21 to May 21 of a year.
Taurus natives are very jovial. They have a collector aspect. Relaxed, but also comfortable, they navigate through their lives. People who see the light of day under the zodiac sign of Taurus can put a stop to hectic people. The zodiac sign symbolizes unity and creative power. The matter, possessions and security are important and come first.
Element: Earth
Color: Blue
Numerology: Number 2
Planet assignment: Venus
Quality: fixed
Female sign
Weekday: Friday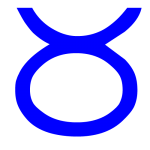 The sign of the zodiac symbolizes coziness and resilience. Thorough, slow, patient and persevering it presents itself. Taurus is loyal, warm-hearted, sensual, creative, down-to-earth and practical. He takes a thoughtful approach, is sociable and likes everything that has a beautiful as well as material value for him. A good memory and a pronounced sense of desire characterize him. He has a sense for everything beautiful and has a good taste – visually as well as culinary.
The Taurus likes to overdo it with materialism. He tends to avarice is calculating and can separate only with difficulty from acquired goods. Closed, possessive, greedy, lazy in thinking, stubborn and inflexible he appears. He is secretive, jealous, chronically dissatisfied, and dislikes interference in his life. Stubbornly he holds on to everything and is often considered a "couch potato".
Addressed body regions: Throat, bull neck
Throat, pharynx, tonsils
Neck
Larynx
Esophagus
Legal Notice About The Diseases
For legal reasons, it is expressly stated at this point that the information given does not include medical advice, diagnosis, recommendation or treatment.
Following the astrological traditions, the mentioned areas belong to the health weak points of the concerned zodiac signs, which can occur, but by no means have to be present.
In case of existing complaints, a doctor or therapist should always be consulted.
The listed overview of the possible diseases has no claim to completeness.
All Zodiac Signs at a glance HERE.