The new moon 2017 is eagerly awaited. The new moons have a transformative effect on the human psyche. The moon has a close connection to human sensations and every emotion. During a full moon, interpersonal tensions usually rise. On the other hand, at a new moon, the signs are for new beginnings of every kind. Plans and ideas begun on a new moon day promise to be successful. The energy of the moon can be used to set the course for the themes of the current cycle.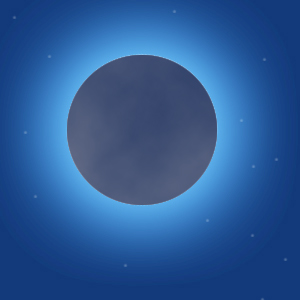 Weekday
Date
Time
Zodiac Sign
Attention: All data refer to the calculations of the place Hamburg, Germany.
The time changes by a few minutes as soon as you are on a different longitude or latitude.
The first new moon 2017 takes place on January 28, 2017 at 01:07 am in the zodiac sign Aquarius. It promotes the desire for freedom and independence. A small burst of strength is possible today. One's own feelings are strongly influenced by the prevailing themes of the environment. Existing basic patterns want to be overcome and restructured. The community with other people does good and has a liberating effect. It is a good day to make promising decisions together as a team. Meetings or the joint collection of new ideas is favored. Progress begins with visions. These can unfold particularly well on the new moon.
The new moon in February takes place on February 26, 2017 at 3:58 pm in the zodiac sign of Pisces. The empathy is particularly pronounced today. The feelings of fellow human beings can be perceived well. Their needs are very present. Likewise, one's own wishes and ideas are in the center of attention. Not only empathy, but also one's own sensitivity are intensely experienced at this new moon. Dreams, being in love or visions of a better future, are in focus. Although communication may prove difficult, the doors are open to art, fantasies and poetry. Those who are unrealistic run the risk of succumbing to illusion and self-deception. Those who are able to harness the energy of the new moon can use their intuition to lay the foundation for success. The beginning of a new love is possible today.
The new moon in March takes place on March 28 at 04:57 am in the zodiac sign Aries. This is the best day of the year to break an old habit. People who want to quit smoking or start a diet take advantage of the new moon day in March. According to traditions, the best results and most successes for new beginnings of all kinds are achieved on this day. Since at the same time Jupiter is retrograde this year, it is not advisable to plan a new venture or investment. When dealing with finances, spending money in particular should be well considered. In the private sphere, a new opportunity may arise today through a new possible contact. The general mood is positive. This favors embellishments of all kinds and promotes interest in new encounters.
The new moon in April takes place on 26.04.2017 at 02:16 pm in the zodiac sign Taurus. This day is all about communication. It is about exchange, sharing oneself and the beautiful things in life. The new moon makes us look at material values. On the test stand all elements of the life, which are meaningful for everyone. The own attitude moves into the foreground. In addition, a time of recovery occurs. Strengths are saved and the need for pleasurable meals increases. For some, it becomes a time to redesign the home. Things that have been lying around are worked off, sorted and tidied up. Although the New Moon is a good time to get a fresh start, it will usher in a phase that is more passive in bringing new developments forward. By sorting the old, something new emerges.
The new moon in May is on 25.05.2017 at 09:44 pm in the zodiac sign Gemini. It will be quite a pleasant day for many. Those who are able to take advantage of the opportunities that arise will lay a new foundation. Even if founding new ventures and companies doesn't seem quite worthwhile yet, important course can be set in the professional sphere or in everyday matters. The own ideas can be brought in and meet with the approval of the people in the closer environment. Should they perhaps not be implemented due to other circumstances, they will be heard and considered very positive. The new moon will be a pleasant day, which will increase the general well-being. Missteps will be forgiven and not everything will be taken quite seriously.
The new moon in June takes place on 24.06.2017 at 04:30 am in the zodiac sign Cancer. Even before the sun rises, this new moon occurs. Most people will wake up with a pleasant feeling and feel into the day. You will stay completely with yourself and experience a time that is all about your own development and needs. The desire for your own home and family is stronger than the pursuit of career or material values. An exchange in one's own four walls with people who are very close can bear good fruit. On this path, at this new moon, there is an opportunity to express the inner thoughts and ideas for the ideas of one's future. Not all impulses will be able to be implemented, but they will continue to mature in the coming period until the final result is round.
The new moon in July takes place on 23.07.2017 at 11:45 am in the zodiac sign Leo. The own presentation to outsiders moves into the center. The presentation of one's own wishes and needs becomes important for many. They want to develop and be seen. One's ideals should be heard and perceived by others. The day will be like a time of departure. Changes will be sought and should unfold as quickly as possible. However, it must be kept in mind that there should be no rash or hasty actions. All ideas that are not yet fully developed will not be able to prevail. They will burst like soap bubbles. Therefore, despite all enthusiasm, it is highly recommended to check which ideas are mature enough to be able to implement them successfully.
The new moon in August will take place on 21.08.2017 at 08:30 pm in the zodiac sign Leo. This will be a day that will inspire many people. A time of change is coming and lets many grow beyond themselves. The everyday life goes as if by itself. A certain lightness is lived through it, which is pleasant and beneficial. Professionally, new opportunities arise. In the interpersonal area, growth and beautiful hours await. Dreaming seems possible again and allows the inner radiance. Sudden ideas germinate, the desire for freedom grows and at the same time everything seems possible. Old unpaid bills are settled. This brings closure to matters that have been neglected.
The new moon in September will take place on 20.09.2017 at 07:29 am in the zodiac sign Virgo. This will be a day that will set a course in seclusion. Perhaps it will be perceived by many people as slowing down. It may be that they actually do not feel so well and feel the day less as departure and change. Nevertheless, especially in the silence a lot is happening. A view of the whole becomes possible only through the restraint. Afterwards we go on strengthened and align our goals better. As soon as the inner structure and order is established, the step forward begins. The sortings take place in peace and protection. Therefore, they are not considered a classical new beginning, but in the end they are often more powerful than other impulses.
The new moon will take place in October on 10.19.2017 at 09:12 pm in the zodiac sign Libra. This will be a day when we want to be a child again. We have a desire for fun & play. There is a longing for free time and creativity. We should soak up and enjoy the day as it comes. It is not necessarily to start long-term projects as well. Many will burst like soap bubbles, because they do not stand on a firm foundation. Luck seems to be on our side. Therefore, we are also called upon to examine sustainability in order to avoid disappointment. Those who manage to just be, laugh and be happy will be able to have a very wonderful time.
The new moon in November is on 18.11.2017 at 12:42pm  in the zodiac sign Scorpio. This day is about realigning one's beliefs or even religious approaches. Outdated patterns are examined and may be invalidated. There is a desire for a traditional order. A reflection on patterns that have stood the test of time will take place. It is not a matter of developing new ideas or unprecedented structures. Rather, there will be an examination of patterns that have crept in. These will be examined more closely for their value and selected. In the connection with the deep convictions of the own conceptions the structures are determined, which individually guarantee the own advancement.
The last new moon of 2017 will take place on 18.12.2017 at 07:30 am in the zodiac sign Sagittarius. There will be a feeling of being slowed down. The next steps seem to become difficult or bumpy. For some people, moving forward can be fraught with adversity. It's almost as if a self-boycott is taking place. The urge to change is there, but your own head is not clear enough to implement new ideas. Other people's beliefs don't seem to be coherent for one's own situation. The first big step works, but next an obstacle must be overcome. This develops into an interplay that requires strength. However, those who face it will start the new year powerful and strengthened.