The new moon 2018 brings potentials of changes. The New Moon is characterized by the Moon and Sun touching each other from an astrological perspective. This favors new beginnings of all kinds. This energy is much more pleasant than that of the full moon. Instead of tension, we often experience an energy of upliftment and new impetus through a new moon. The start of a project or venture often promises to develop especially well on the day of the new moon.
The new moon initiates a phase that will last until the next full moon when the moon is waxing.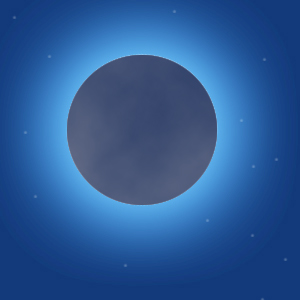 Weekday
Date
Time
Zodiac Sign
Attention: All data refer to the calculations of the place Hamburg, Germany.
The time changes by a few minutes as soon as you are on a different longitude or latitude.
The first New Moon of 2018 will take place on January 17, 2018 at 03:17 am in the zodiac sign Capricorn. In love matters, this year starts promisingly. The Sun, the Moon and the planet Venus touch each other on the New Moon day. We are looking for our luck in love and will find it. Whether single or in a partnership, the signs are good for fulfillment in love matters. The search for a new partner is favored, in partnerships it becomes pleasant and who wants to be single is happy about the existing freedom. We are at peace with ourselves. Likewise financial matters can be settled well. The new moon can therefore be used to sort out or restructure one's funds.
In February 2018, the new moon is on February 15, 2018 at 10:05 pm in the zodiac sign Aquarius. We try to find our happiness by starting to communicate more with the people around us. We explain ourselves, point out our thoughts and feelings or try to express what we want through our body language. Aquarius awakens the desire for freedom and individuality. Our efforts will result in wanting to break shackles and leave constricting environments. Contact with friends or activities in groups do us good. We move in an optimistic mood.
The March 2018 New Moon will occur on March 17 at 2:11 pm in the zodiac sign of Pisces. We feel like we are on the fast track. Fortune will have some pleasant developments in store for us to grab hold of. Although our drive is diminished or we feel we have to go the distance with two left legs, we will still score on various levels. We feel within us that we are right and that the decisions we have made will do us good. We just shouldn't rush things, because cognitive processing of various experiences will take time. This New Moon lets us know that we can build on our intuition.
The new moon in April 2018 will take place on April 16, 2018 at 03:57 am. It will occur in the zodiac sign of Aries, bringing a breath of fresh air into our lives. This new moon is best suited to set ourselves new goals in life. We should examine what will make us truly happy. At the same time, we will find ourselves playing power games. Assertiveness is in demand and will be immensely challenged these days. We should check whether it is really worth it to assert our stubbornness at any price. At the same time, we must draw boundaries and clearly mark out our territory. Others are trying with all their might to decide over our heads. We need to check how far we can let them go.
In May 2018, the New Moon is on May 15, 2018 at 1:47 pm in the zodiac sign of Taurus. This New Moon will awaken our need for stability and continuity. We do everything we can to make our lives as comfortable as possible. Although we know that not everything always happens the way we want it to, we still manage to succeed in everyday life. We will have more energy than usual at our disposal. It will be easier for us to assert ourselves against other people and to master the challenges of daily events. This new moon makes us feel powerful. This makes us feel secure and confident about our future.
In June 2018, the new moon will be on June 13, 2018 at 09:43 pm in the zodiac sign of Gemini. We are very lively and have many ideas. Our head and mouth hardly seem to stand still. Unfortunately, we are less productive at it and in the end will not achieve as much as thought and anmoderated. We will lack discipline and assertiveness. Therefore, this New Moon is good for making plans where no one expects a breakthrough. We should get inspired and write down all important thoughts. However, implementation should be postponed to another time if we also want to be successful. It is the time of silent drafts or concepts. We should not go public with them yet.
The new moon July 2018 is on July 13, 2018 at 04:47 am. The Sun and Moon will be in the zodiac sign of Cancer. Our decisions revolve around family matters. We plan, think and act for the sake of the family while taking care of ourselves. Still, there will be disruptive factors for which we need solutions. Our path is paved with challenges that we will overcome if we keep an optimistic attitude. Otherwise, others will take control of our daily lives. No matter how well we mean it, we will find that not everyone shares our thoughts and ideas. If we risk too much, we will ultimately stand alone and feel helpless.
On August 11, 2018 at 11:57 am the new moon will take place in the zodiac sign Leo. We show more of our charismatic side in the coming time of the waxing moon. We want to be noticed more in our environment and strive for fame and recognition. In everyday life we intensify the conversations and create a positive atmosphere. Optimistically we look at the coming time ahead of us. At the same time, we lick our wounds due to experienced events. We have learned from them and want to share exactly that with the world. We look for confirmation of this from other people and do not let up until we find it. This New Moon expresses that we want to look at life in a more relaxed and playful way.
In September, the new moon is on 09 September 2018 at 08:01 pm in the zodiac sign Virgo. We have suffered setbacks and now it is necessary to keep a cool head. With this new moon comes an energy to us that will bring order and structure. We are eager to sort ourselves out diligently and in an intelligent way. Almost detail-oriented, we show ourselves and want to score points with it. We assert ourselves by being prepared. Beware, however, of dazzlers or things that cloud our vision. We don't have a very good connection to our inner voice and are therefore more easily fooled than usual. As tough as we are, we can also be led astray. Therefore, we better focus on the facts, because that's what we're good at thanks to the New Moon.
In October, the new moon is expected on October 9, 2018 at 05:46 am in the zodiac sign Libra. Through him, the themes of harmony and balance are triggered. The world seems to find its peace. Nevertheless, we should not be deceived by it. There is another indication that we will feel powerless, although all signs are pointing to a new beginning. It is the opposites that the New Moon will unite. We will experience a mood of departure with our arms linked at the same time. As much as we want it, we will not get as far as we wish as quickly. We are automatically forced to work more diligently to achieve our goals.
November New Moon 2018 will please us. It is in the zodiac sign of Scorpio on November 7, 2018 at 5:02 pm. With its energies we dive down into our deeper layers and transform ourselves. We examine what we really want and have a sense for the right decisions. Life seems to become a little easier again. The big hurdles of the year are behind us. It seems to us that many things are falling into place. We meet the right people, we find the right words and we are very strong inside. We rise above ourselves and can successfully assert ourselves in the face of headwinds. In connection with our own inner wisdom we go our way with our heads held high.
The last New Moon of 2018 takes place on December 7, 2018 at 08:20 am in the zodiac sign Sagittarius. Its energies trigger themes of faith. Just before the turn of the year, we question ourselves and our attitudes. We look to other people and want to know more about their views. Our energy level is slowed down. Likewise, we should not believe everything we are told. Appearances are more deceptive than we think. If we do not lose sight of the big picture, the new moon will bring us beneficial insights. Our external effect will improve. The recognition we are looking for from others will now be granted to us. We should remember that we are being watched more closely by those around us now than at other times. They learn from us by keeping an eye on us.