With a new moon 2019 always comes an energy of new impulses in our lives. New projects or ventures can be started and are considered promising. Immediately after the new moon begins a time of the waxing moon, which is associated with growth. Therefore, it should be used until the next full moon to initiate changes and put existing ideas into action.
The year 2019 will bring us a total of 13 new moons that will inspire us.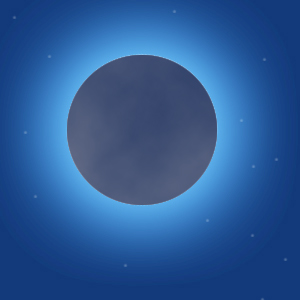 Weekday
Date
Time
Zodiac Sign
February 4, 2019
10:03pm
Aquarius
Attention: All data refer to the calculations of the place Hamburg, Germany.
The time changes by a few minutes as soon as you are on a different longitude or latitude.
The first new moon of 2019 will take place on January 06, 2019 at 02:26 am. The Sun and Moon are in the zodiac sign of Capricorn at this time. This new moon is perfect to start with new ventures. We have the necessary discipline, are full of strength and can assert ourselves. In addition, we have the certain amount of sensitivity and intuition that we need to realize plans. We know at the right moment how we should act to achieve our goals. Our thinking is clear and at the same time we pay attention to our inner voice. We should use this balance to experience success and to create a feeling of well-being already at the beginning of the new calendar year, which can carry us over a longer period of time. If you want to build something new now, you should seize the opportunity.
In February, the new moon is on 04 February at 10:03 pm in the zodiac sign Aquarius. We long for freedom, independence and individuality. We want to leave the fulfillment of duty behind and simply feel comfortable with nice people. With this new moon we can start contractual matters. Conversations will shape and perhaps change our lives. Promises will be kept, as luck will be on our side. We make new contacts unusually quickly now. We like to spend our free time with people who share our ideals and whose ideas can inspire us. If we allow it, we can use the energy of the New Moon to fulfill long-held (realistic) desires. Our gut feeling leads us into situations that hold unexpected opportunities.
The March New Moon occurs on March 06, 2019 at 5:03 pm in the zodiac sign of Pisces. All people who work intuitively or spiritually will be thrilled by this new moon. Our antennas are extended and on full reception. We will have visions, experience daydreams and receive various information about dreams. Whatever methods we use to contact the spiritual world will bring us interesting insights. The more intensively and consciously we establish the connection, the more far-reaching the tips and hints will be. Nevertheless, the new moon will also have its effect on people who normally function in a very head-controlled way. They will experience that they develop a gut feeling that will serve them helpfully in everyday life.
In April, the new moon is on 05 April 2019 at 10:50 am in the zodiac sign Aries. With him, all signs are set for a new beginning. Aries wants to conquer the world and leaves no stone unturned. Nevertheless, the new moon in April is associated with challenges. Those who want too much will have to make a decision. This means that separations are also in store, because we will not be able to have everything. Although we should use the energy to start new projects, not everything will go smoothly. At the same time, we are leaving behind people, situations or matters that will no longer be conducive. At the first moment, this does not yet show itself in epic breadth, so initially there are moments of uncertainty. After some time of development, however, we realize that separations are inevitable and even have constructive qualities.
In the merry month of May, the new moon takes place on May 05, 2019 at 00:45 am in the zodiac sign Taurus. We strive for coziness, seek the feel-good factor and like it cozy. With this New Moon, we use the energy to make our own homes more comfortable or to make things a little more comfortable in our lives. We act very intuitively and will have many remarkable insights into the wisdoms of life. Our life path will become more accessible to us during this time of the New Moon. It is worthwhile to look at visions and dreams in more detail during the phase of the waxing moon. We decode important messages and thereby reach new clarity as well as insight. A feeling of arrival sets in and brings us peace, stability and serenity.
The June 2019 New Moon is at 12:01 am on June 03, 2019 in the zodiac sign of Gemini. We are in a time of increased communication. Interaction with other people is important to us. Contractual matters increasingly move into our lives. We make contacts and get to know interesting people. Our energy level increases. This means that we are more restless and feel an inner restlessness that makes us productive. Not all ideas will translate into action. Nevertheless, it gives pleasure to build castles of thoughts and to let ourselves drift. Our everyday life is filled with beautiful words. We should let them take effect without having any expectations. It is important to enjoy the moment and not necessarily think about the day after tomorrow.
In July, the New Moon will be on July 02, 2019 at 9:16 pm. It takes place in the zodiac sign of Cancer. We are surrounded by joyful surprises and sudden events. There is a longing in us for family, consistency, and caring that we want to satisfy. We set the course so that we can care for others. In this we find fulfillment. Life will present us with fates that will help us achieve our goals. Not everything can be planned. It is the unexpected moments that will ultimately promise more success. Our effect on other people is improved. This will enable us to receive recognition for our achievements. This does not have to be of a material nature. More important are the emotional acknowledgements and the appreciation of our work.
On August 01, 2019, the new moon in the zodiac sign Leo will occur at 05:11 am. This new moon in August 2019 attracts our charming side to the fore. We throw compliments around, play with our charms and want to convince other people of our qualities. We impress others wherever we show up. Singles should make special use of these energies to present themselves and make an impression. But also for the achievement of professional goals we can use the energies of the new moon well. We discover the beautiful sides of life and enjoy it when other people ask us for our opinion. However, we should not make sudden decisions. If we act too quickly and make judgments, we will waste valuable opportunities and regret it.
The month of August 2019 brings us 2 new moons. The second new moon will take place on August 30, 2019 at 12:37 pm in the zodiac sign of Virgo. This event in the starry sky will make us smile on our face. We will like the basic energy of the day. In contractual matters, we have the right nose. Likewise, we are assertive and grab when we see an opportunity. Whether in business, love, or financial matters, the New Moon brings good opportunities to significantly improve individual situations. We will wish that there should be more of these days or phases in life like this. Unexpected opportunities will arise and we should definitely take advantage of them. Who wants to start a new project, I should already early mark this day in the calendar and make appropriate preparations.
In September, the New Moon 2019 occurs in the zodiac sign Libra. It takes place on September 28, 2019 at 8:26 pm. This new moon awakens in us the need for conciliation and the establishment of a balance. Various areas of life are addressed where we seek balance. Wherever conflicts prevail or matters do not go as we wish, we show presence and seek solutions. We want to improve our entire life situation and strive for harmony. Restlessly we move through our daily life and do not give up until we are satisfied with the changes. Tensions are reduced and the willingness to compromise increases so that we can achieve our goals. 
The New Moon in October 2019 is on October 28, 2019 at 04:38 am in the zodiac sign of Scorpio. Already in the early morning hours of the new moon we deal with the deeper levels of our being. Issues of transformation are driving us. We should avoid sudden decisions, as we will not be completely satisfied with them in retrospect. Our passion drives us, but at the same time it can be a hindrance if we act impulsively. We should use insights to develop ourselves further and involve less other people with them. The new moon is helpful to look behind the scenes and find answers. We get new approaches that can take us further. Let's use them wisely!
November brings a new moon in the zodiac sign Sagittarius on November 26, 2019 at 4:05 pm. We open our mental horizons and allow new insights. We find other people's experiences more interesting than we thought. We can learn from them and use them to make improvements in our own lives. We look outside the box for inspiration. Faith issues and religious views will engage us. We find learning easier and enjoy exploring new areas. We may decide to take continuing education or learn by watching and listening to other entities on this planet.
The last new moon of 2019 will take place on Christmas. On December 26, 2019, at 06:13 am, it will be in the zodiac sign of Capricorn. Although the feast of love is coming and this promises a lot of emotions, the new moon brings clear and sober moments. Luck is on our side, so we can plan the holidays in advance with the start of new projects. Unexpectedly, opportunities present themselves in our lives that we should take advantage of. It may be a bright idea or a consideration that we are now ready to put into action. Thanks to the New Moon energy, we are disciplined in implementing our plans. We will not be distracted or led astray. Our plans will be successful if we allow them to be.